Frequently Asked Questions
---
Are they made in the U.S.A.
Yes, my wife and I handmake each of our ornaments and magnets from materials that are made in the U.S.A. The Hydrostone is produced in the U.S.A. The labels come from a company in Iowa which prints them there, the magnets are made in the U.S.A. All of the boxes that we use are made here in San Antonio, and the leather lace comes from Tandy's
---
The magnets, how and where are they attached?

We use two strong magnets on most of our replicas, on a few which are larger and heavier we use three. The magnets are imbedded into the material the replica is made from, hydrostone.
---
How do you attach the ornament hanger?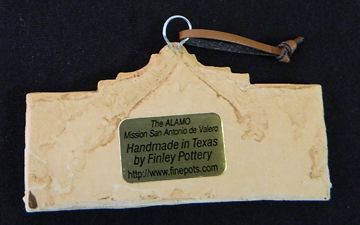 We purchase a special hanger which has a ring and two tails, the two tails are imbedded into the hydostone leaving the ring at the top of the ornament. We then tie a length of genuine leather onto the ring
---
I notice labels on the ones above? Do they all have labels?
Yes they all have a label on the back. The labels all say that the item is handmade in the U.S.A. or handmade in Texas if the replica is of a site in Texas. Each label is different but many give information about the site the replica comes from.
---
How do you make your replicas?
First I visit the site and take a number of pictures from as many angles as I can and learn as much as I can about the site.

I use clay to sculpt the original replica. Sounds easy but I spend hours on each one to get the detail just right.

I then make a latex mold of the original clay model. This entails painting 12 layers of latex onto the model letting it dry a day between each layer.

Many times I use this model to add texture to the piece and then make another latex mold, another 12 layers of latex.

That gives me a mold to make 1 replica at a time so now I pour from 6 to 12, depending on the size, of the replicas and set them onto a board and do a latex mold of these so that I can pour a nunmber at a time.

Once the final mold is made and allowed to dry then are ready to make the final product.

We pour Hydrostone into the molds and allow them to dry, once dried we have to clean each piece and then color them so that you get the contrast.

---

What is Hydrostone

Hydrostone is a plaster like product but specifically formulated for high detail and and hardness.
---

Bill Finley
August 5, 2016
bill@finepots.com