Finley Pottery
We make high quality miniature sculptures depicting historic sites in the South Western U.S. these we sell as magnets and ornaments. We do the Alamo and the 4 Missions of San Antonio (San Jose, San Juan, Espada and Concepcion) as well as San Fernando Cathedral, The Little Church of La Villita, and the Spanish Governor's Palace along with the other 5 missions in Texas, 3 in El Paso(Ysletta, Socorro, and the Chapel San Elizario) 2 in Goliad (Espiritu Santo, and the Presidio La Bahia) and the L.B.J. Texas White House.

Outside of Texas we do Cliff Dwellings from Mesa Verde, Canyon de Chelly and The Gila Forest. We make depictions of ruined pueblos at Chaco Canyon, both Pueble Bonito and Pueblo Arroyo, the Great Pueblo at Aztec Ruins as well as the 3 Salinas Valley Pueblos (Grand Quivera, Abbo, and Quarai.) I have also done other buildings including Mission San Miguel in Santa Fe and a scene from Carlesbad Caverns.
We also do the center circle of the Aztec Calendar, some texas theme designs and Celtic knots.
---
We, Bill and Maggie, would like to welcome you to our home page We have made our living as potters in a small town, Mico, in the Texas Hill Country, just west of San Antonio since 1980. We now make sculptures of historic buildings of the Southwest and make them into magnets and ornaments.
---
---

Where is Mico? What is Mico Like?
---

Pictures of Maggie and I, a watercolor picture of Bill painted by Lorenzo Castaneda, a good friend of ours, and caricatures of us over the years as seen by another friend of ours, Harry Schneider.

---

The video that the Texas Country Reporter T.V. show did about us in February 2006 when we were still making pottery can now be seen on "youtube" at
http://www.youtube.com/watch?v=POlxGUabCvw

---

This page has some news paper clipping of articles that have been written about us over the years.

When we were making pottery and selling it at Art Shows we spent a lot of weekends at the Mexican Market in San Antonio and over the years I have taken many pictures there so I thought I would share a few with you.

How do you make your replicas?
What is the material they are made from?

---

Contact Information

We can be reached by E-mail at bill@finepots.com

See our Price and Order Page for phone and address information.

---

From 4 April. 1999



Last update June 18, 2022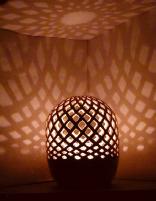 AFTER 35 YEARS OF MAKING POTTERY WE ARE NOW MOVING INTO A NEW PHASE IN OUR CAREER, WE NO LONGER MAKE OR SELL OUR LUMINARIES, AND ARE CONCENTRATING ON REPLICAS OF THE MISSIONS AND OTHER HISTORIC SITES. THANK YOU TO ALL OF OUR LOYAL CUSTOMERS OVER THE YEARS
BILL AND MAGGIE