Mico
Mico is a small community about 16 miles west of San Antonio Texas. It is located in what is known as the Texas Hill Country. In 1911 A dam was built, with private funds, across the Medina River to form Medina Lake. Mico is the populated area that has grown up over the years on both sides of the dam. The lake was built to irrigate the fertile farm land just south of Mico and was never meant to be a constant level lake, for this and other reasons it has not become a rich resort area but rather a sleepy little community. San Antonio however is beginning to build out towards us and that may all change in a couple of years.
St. Francis Chapel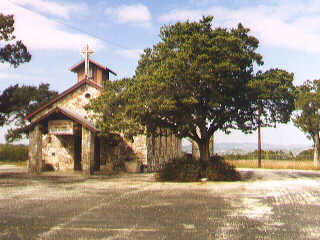 St. Francis Chapel is one of the few public buildings in Mico. It was built in 1926 to provide religious services to the fishermen and hunters, it still has Mass every Saturday evening and, although it is a Catholic service anyone is welcome.
Mico Links

This will take you to a page of links to other web sites that have to do with Mico or Medina Lake.
We have some old photoes from the Castroville area, a picture of one of the old Locomotives that brought supplies to the Dam as it was being built, and a post card from the building of the Dam. Some history about the Indians, rainfall in the county from 1880 to 1987, and are adding things all the time
I have three pictures of the lake on this page, the first is a big picture. I claim it to be the longest picture on the Internet. I shot it in 1998 when the lake was full.
The second is another long picture I shot in March of 2013 when the lake was 76 feet low. It is interesting to see the difference.
The third is a picture I was given of the lake during the drought of 1941, an old black and white picture.
Last updated June 19, 2022
A few pictures of the sights of Mico.
Just a few pictures of the fall colors in the Mico area.

---
RETURN TO HOME PAGE

---


From 9 October 2000

Copyright © 1999 by Maggie and Bill Finley

6 July 2008
webmaster@finepots.com