The Alamo
The Alamo was built in 1718 as a part of the original Mission San Antonio de Valero.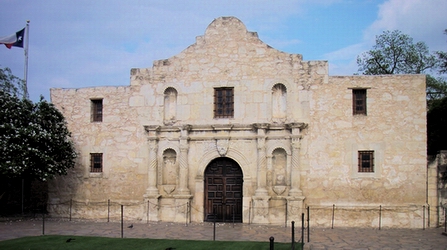 The Battle of the Alamo
February 23 - March 6, 1836
The Alamo is where a small band of Texans held out for thirteen days against the army of General Antonio López de Santa Anna. Although the Alamo fell in the early morning hours of March 6, 1836, the death of the Alamo Defenders has come to symbolize courage and sacrifice for the cause of Liberty.
You can find out much more about the Alamo at their web site http://www.thealamo.org
---

3 1/2 inches wide x 2 inches high
The Alamo Ornament / Magnet ---- $8.00
The Alamo was the first Mission that I sculpted and this is a picture of one of the models that I developed. I sell these as either ornaments or magnets
---
You can buy our Alamo Magnets and ornaments in person at:
(Prices may vary from store to store)
The Alamo Gift Museum on the grounds of the Alamo
The San Antonio Visitor's center across the street from the Alamo
San Antonio Missions National Park Gift Shop at Mission San Jose

Or you can order them from us online.
The Alamo magnet or orament is $8.00 when you order them from us
---